Did you know that you are capable of turning a cut file into a design that can be sketched? We know it seems complicated, but we promise that it's a lot easier than it looks. Keep following along, and you'll to master this technique in 10 minutes. 
Supplies Needed:
Step One: Creating the Sketch Design
Download and open Design ID #59440 (Mother's Day Floral Card) in Silhouette Studio®. Although it is a card, we will teach you the steps to make it something you can sketch.
Now that the design is on your page, select it and ungroup the shape. We will do this a couple of times (Once you can't ungroup any longer, right-click and select Release Compound Path) so that the floral shape is separate from the card.
Delete the card shape leaving only the circular floral shape. Select and regroup the floral shapes so that they all move as one collective shape. 
Step Two: Sketching the Design
Place your treat bag onto the cutting mat (Tip: Line it up using the mat's grid lines so that the shape will be centered when it's time to use the sketch pen.)

Resize your floral shape depending on the size of your bag (my treat bag was 7.25 imches tall and 5 inches wide). The size I adjusted my floral shape to was 3.6 inches by 3.6 inches.
Place your floral shape using the grid lines (On the top menu, go to View then select Show Grid) to ensure that the sketch pen will be drawing on your treat bag. I created a rectangle to mock up where the treat bag was placed on the mat. This way I could make sure my design was centered. 
Swap your blade for your sketch pen and hit Send. Set the cut settings. Choose "Cardstock, Plain" as your material and then change the action to Sketch. 
Hit Send and watch your sketch pen draw out the design.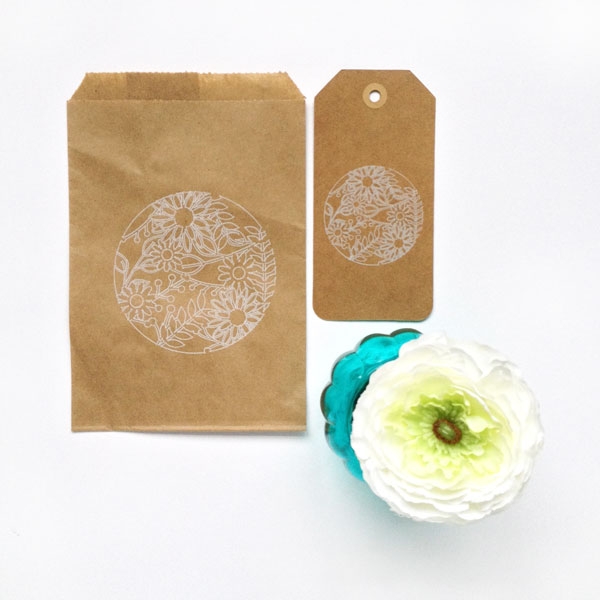 This blog post was originally posted on the Maritza Lisa blog. It has been edited and republished with permission from the author.